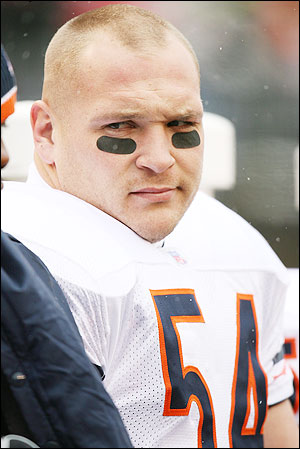 Brian Urlacher,33, has returned back to Bears after he was off to attend the death of his mother. Lavoyda Lenard, mother of Brian Urlacher mother passed away earlier this week. She was 51.
In the statement released by the Bears organization Urlacher said:
"My mother, Lavoyda, unexpectedly passed away Monday at her home in Texas,"  while adding, "My first priority right now is to be with my family as we mourn her loss and make the arrangements to lay her to rest," while he added, "This is a very difficult and emotional time for us and I sincerely ask that you respect our privacy. Thank you."
The Bears understand that Urlacher may not be ready to play on Sunday and acknowledged that he'll be sorely missed if he's not in attendance to take on the New Orleans Saints. Bears receiver Roy Williams told ESPN Chicago:
"That's going to be tough for our football team (if Urlacher doesn't play Sunday)," while adding, "Whoever takes his spot (if necessary) will play well. My thoughts and prayers go out to him and his family. He is the emotional leader of the football team, so we have his back."
However, Brian has returned back to field for practicing and is expected to play this Sunday at New Orleans.