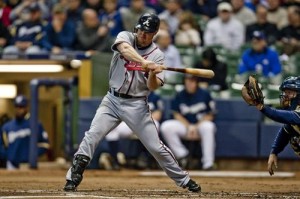 Brooks Conrad was somewhat of a novelty for the Atlanta Braves this year. The 30-year-old backup infielder saw plenty of action with Chipper Jones in and out of the lineup and he got a starting spot when Martin Prado was knocked out for the year with an oblique injury. Of the eight home runs he hit this season, seven came in the 7th inning or later and plenty were walk-off winners. Despite all the goodwill he built up during the year, most, if not all of it was lost on Sunday.
Conrad committed three errors against the Giants and was one of the primary reasons the Braves lost Game 3 of the NLDS 3-2. Conrad's first error came on the second batter of the game when he blew a fielder's choice ground ball from Freddy Sanchez, allowing Andres Torres to reach second base. The Braves luckily escaped without allowing a run, but Brooks' next two errors were more costly.
Right after Cody Ross tripled to lead off the second, Conrad dropped a popup in short right field. The error allowed Ross to score what was the only run of the game until the 8th. After Atlanta took the lead in the bottom of the 8th thanks to a two-run home run by Eric Hinske, Conrad made another blunder in the 9th.
With runners on first and second and two outs in the 9th, Buster Posey hit a soft liner that bounced just before it reached Conrad at second. Conrad was screened by the umpire and didn't get his glove down until after the ball went through his legs, allowing a run to score. The miscue gave the Giants the lead 3-2, and Brian Wilson pitched a scoreless bottom half for the win.
I hate to single players out for their poor play, but Conrad's three errors absolutely killed the Braves. It's unfortunate that this is the first time many baseball fans are learning his name and that this may be his MLB legacy.
Credit: larrybrownsports.com