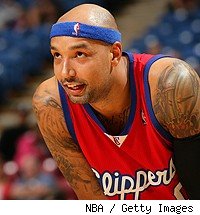 Drew Gooden, a journeyman power forward who spent last season between the Mavericks and Clippers, will sign a five-year mid-level exception deal worth $32 million with the Milwaukee Bucks, according to Yahoo! Sports' Adrian Wojnarowski.
Gooden, who will turn 29 before the start of next season, becomes the first American player to reportedly reach an agreement since the official start of the 2010 NBA free agency period at midnight Thursday. The 6'10 forward-center finished 2009-10 in Los Angeles after being sent to Washington in the Caron Butler-Brendan Haywood-Josh Howard trade at midseason. Before Gooden played a single game for the Wizards, he was flipped to L.A. in an expanded Antawn Jamison deal that sent Al Thornton to D.C. and Sebastian Telfair to Cleveland.
If the contract is consummated, the Bucks would officially be Gooden's ninth team in a eight-year career. Gooden was drafted No. 4 overall in 2002 by the Grizzlies but traded to Cleveland during his rookie season. In 2004, he was traded to the Cavaliers. Since 2008, he has been traded to the Bulls, Kings and Clippers; he signed a midseason deal with the Spurs in 2009 and signed a one-year partially guaranteed deal with the Mavericks last summer.
Last season, the Bucks played Ersan Ilyasova at power forward primarily. The Turk started 31 games for Milwaukee, and performed well, becoming one of the better defensive rebounding power forwards in the league. Fellow second-year player Luc Richard Mbah a Moute also spent time at power forward, and the Bucks' June trade for small forward Corey Maggette was expected to push the Cameroonian into even more minutes at PF. But Gooden's acquisition would throw a wrench in that. It's possible the Bucks could play Maggette as shooting guard, if the team can't convince John Salmons to stay in town.
GM John Hammond told FanHouse Wednesday that the Bucks do want to keep Salmons. Milwaukee has Salmons' Bird rights and can go over the salary cap — which they currently are — to retain him.
Gooden is a useful player, though considering just a year ago no team would offer him more than an unguaranteed one-year deal worth $4 million, springing for the full mid-level seems awfully hasty, especially considering power forward does not seem to be a need position in Milwaukee. Gooden just does not seem like a player you rush toward in the first hours of what should be a long free agency period.