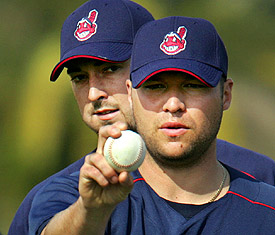 The NL Central figured to be a battleground once again this year, but few, I'm sure, had the Reds in it as late as July. Yet there they are, just a half game behind the St. Louis Cardinals. We've heard that the Reds probably won't make a deal, which leaves the window open for St. Louis. Adding Jake Westbrook could be a move that helps propel them to the Central crown.
The Cardinals have a strong top of the rotation with Chris Carpenter, Adam Wainwright, and Jaime Garcia, but have had trouble filling in the rest of the staff. Brad Penny, who was pitching well before suffering an oblique injury, has faced further setbacks during rehab and his return this season is questionable. Kyle Lohse might return soon, but he was horrible in nine starts this year. Jeff Suppan hasn't produced the worst results, but with 1.8 homers per nine and more walks than strikeouts he's a disaster waiting to happen.
Garcia presents an additional problem. While he has pitched better than anyone could have hoped this season, he does have a workload limit. His career high in innings pitched came in 2006 when he threw 155 innings in Class-A. He threw 122 innings in 2008, but last year, because of injury, he managed just 37.2 innings. The Cardinals might keep him in the rotation through the year, but it's tough to project a pitcher heading into uncharted — or at least recently uncharted — waters. Adding another starter helps hedge that concern.
Westbrook hasn't had a very good season, a 4.65 ERA to go with a 4.67 FIP and 4.41 xFIP. He missed all of 2009 while recovering from Tommy John surgery, so it's possible that his results improve as he continues to pitch. He hasn't realized that type of trend through the season's first four months, though, so perhaps a significant improvement is a bit optimistic. He is, however, a sinkerballer who will work with a pitching coach who has helped many pitchers develop the pitch successfully. Perhaps his pairing with Dave Duncan will help him rediscover his old form.
It wasn't all gain for St. Louis, though. As part of the deal they'll send their starting right fielder, Ryan Ludwick, to San Diego. He's part of a powerful outfield trio that can not only hit, but also play defense. Ludwick's three-year UZR/150 is 4.7, which puts him fifth among major league right fielders. It looks like the Cardinals will run with Jon Jay in right. He has hit well in limited time this year, but considering his minor league numbers (.799 OPS in 1767 PA) and his current BABIP (.446). The move will also give Allen Craig, the team's No. 7 prospect heading into the season, a chance. His minor league numbers are a bit better than Jay's, a .883 OPS with even better numbers in 829 AAA PA, so this could be his opportunity to claim his spot in right.