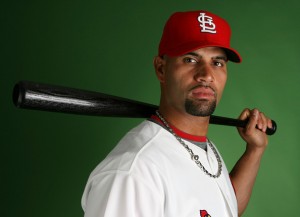 Albert Pujols, probably the best known baseball player ever to play the game has something to do apart from just games. Albert Pujols who talks with CBS Bob Simon on "60 minutes" has whole lot to say on his passion.
"I was one of those Little Boys with no hope" says Albert Pujols on "60 minutes"
After Just 10 Years, Cards Superstar is Already Among 10 Best Players of All Time
Pujols took Simon and 60 MINUTES cameras down to his native Dominican Republic on one of his regular visits to help the country's poor. His foundation provides essentials like medical care and mattresses to the residents of shantytowns called bateys. "This is not so I can be Mr. Nice Guy, 'Look at that baseball player…'" he tells Simon. He is as dedicated to helping others as he is about playing ball, maybe more so. "It's my passion and I believe this is what God is calling me to do…I was one of those little boys with no hope." Watch an excerpt. His foundation also supports people with Down syndrome, another passion for Pujols, whose daughter was born with it.
Pujol's warm feelings for his fellow man do not extend to National League pitchers, however. On the rare occasion a pitcher keeps him off the bases for a game, the next day he's out for blood. "Whoever is pitching is going to pay up," smirks Pujols.
Unlucky pitchers have been paying up for years. Pujols hit his 400th home run last August to become just the 47th player in history to reach that plateau. But he did it in the first 10 years of his career. Over that period, in each season, he batted over .300, had more than 30 home runs, and drove home 100 or more runs — a feat unmatched by any great player the game has ever know.
Pujols is a legend already, ensconced in the statistical pantheon so venerated by the game's biggest fans. Says baseball writer Peter Gammons, "If you look at history, there is no doubt that he is in the top 10 players of all time…No question he is going to be a Hall of Famer."
For teenagers with Down Syndrome, Pujols is already a hall of famer. Cameras capture him dancing with dozens of them at an annual prom he throws for the teens – the highlight of the year for them. "And for me too," says Pujols.