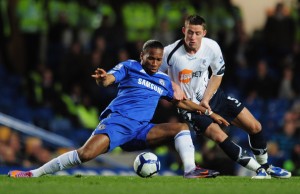 Chelsea made sure they secure a  win at half-time itself as they scored 4 goals to thump Bolton to victory for a score of 5-1 whereas Tottenham Hotspur won the London derby 2-1 against the Gunners.
Lampard's hat-rick guided Chelsea to a massive victory over Bolton as he scored twice in the first period and Chelsea leading at 4 goals during half-time with goals from young Daniel Sturridge. Two of the goals each one from Sturridge & Lampard were the advantage of goal-keeping mistakes from Bolton keeper Adam Bogdan.
Derick Boyata pulled one back for Bolton after the restart but Lampard finished off his hat-rick in the 59th min.Chelsea now move upto 3rd place in primier league table.
In the London derby 21yr old Kyle Walker's 30-yard stunner ensured Tottenham win the London derby. Rafael Van der Vaart put Tottenham in lead just before half time and Arsenal's Aaron Ramsey made it 1-1 at 51st min. When the game seemed destined for a draw until ball fell to Walker 17 mins from time as fired the ball past Arsenal keeper Wojciech Szczesny. The win ensured Tottenham a 4th consecutive victory in BPL. Way to go SPURS !!!