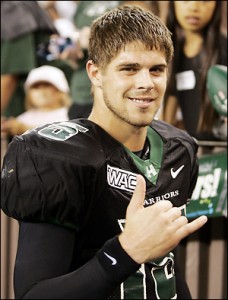 Big Island police have confirmed former University of Hawaii quarterback Colt Brennan was among three people injured in a two-vehicle crash Friday morning on Queen Kaahumanu Highway near Makalawaena.
Brennan reportedly is being transferred to The Queen's Hospital in Honolulu, with possible head and back injuries.
Brennan's agent Ryan Tollner released the following statement:
"We have been informed that Colt was injured as a passenger in car accident this morning on The Big Island of Hawaii. He was taken to Kona Community Hospital and has since been transported to Honolulu for further medical attention. We do not know the severity of his injuries at this point, but that his condition is serious. We are not aware of the status of anyone else involved in the accident but our thoughts and prayers are with them. No details of the accident have been revealed to us. Colt's family asks that the public is respectful of the hospitals and medical staffs focused on treating the individuals involved in this accident."
Brennan apparently is visiting the Big Island after being released by the Oakland Raiders. Last month, he had an exploratory workout with the Houston Texans.
After a record-setting football career at UH, Brennan was drafted in the sixth round by the Washington Redskins in the 2008 National Football League Draft.
After undergoing four surgeries, he was released by the Redskins before the start of training camp this summer.
According to the Fire Department, crews arrived to find the SUV on its side. Stream was able to get out of the vehicle; Brennan could not get out on his own, he was not pinned, but needed to be extricated.
The second vehicle was found 20 feet into the lava field, flipped on its side. The driver was pinned inside and had to be extricated with cutter and spreader tools.
She was transported to North Hawaii Community Hospital via helicopter.
—
Responding to a 9:36 am call, Hawaii Police Department officers determined that Shakti Stream, a 27-year-old Kona woman was driving north in a 1997 Toyota SUV when she crossed the centerline and collided head-on with a 1996 Saab sedan that was headed south.
Stream and her passenger, Colton J. Brennan, a 27-year-old Kona man, were transported to North Kona Community Hospital in serious condition.
The driver of the Saab sedan, a 47-year-old Waikoloa woman, was transported to North Hawaii Community Hospital in serious condition.
The roadway was temporarily closed and re-opened at about 11:15 am.
Police have opened two negligent injury investigations. The exact cause of the crash is still under investigation and it is undetermined at this time if speed, alcohol or drugs were a factor in the crash.
Police ask that anyone who may have witnessed the crash to contact Officer Paula Jelsma at 326-4646, extension 253.