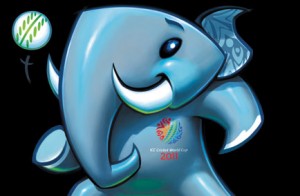 Just 200 days left to go for the massive Cricket World cup 2011, the major issue of naming the mascot has come to an end.
The Mascot has been named "Stumpy" that represents The Elephant which is the national animal of Sri Lanka.
Earlier, there were talks of naming the mascot as The Googly.Since the name was previously used in the world cup 1996,eventually the name was dropped.
Later on,the World Cup running nations India, Sri Lanka, Bangladesh decided to keep an Online poll for cricket lovers to select the mascot and ended up with the name Stumpy.
As a cricket lover, i think the name is catchy. But  i really hope the Sub Continent doesn't spoil the thrill of the game and host it in a better way.