You heard it right! A 10 second ad slot for the world cup finals may cost upto Rs. 2.4 million if only the local favorite India reaches the finals predicts ESPN Star sports, the official media partner to telecast the 2011 Cricket World Cup.
The readers should note the current market price for the 10 sec ad slot is unknown. Rumors are out that it is about Rs. 300,000 to Rs.400,000.
"If India does well and reaches the knockout stages, ad spot rates could jump up significantly, as high as five to six times of the existing rate," ESPN Software India Pvt Ltd Executive Vice President – Ad Sales & New Media Sanjay Kailash told media.
"If India makes it to the semis then increased demand will be seen from new advertisers who have not bought already. Rates will be more driven by the demand and ESPN will want to maximise given that they are already the last two or three matches," ZenithOptimedia, senior vice-president Naveen Khemka said. Cost efficiency can be overlooked if brand objectives are met, he added.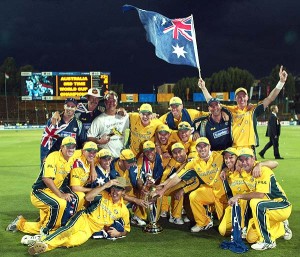 In the end, we can say this world cup will bring the favors for the broadcaster only if the local champs India enters Semi final or final.
Considering the current critics, India has a 70 percent chance to enter the finals.
Whow, this means ESPN Star sports gonna have treasure in their pocket. Lol!
The World Cup 2011 is scheduled to being this feb 19,2011.
We wish all the team a very  good luck