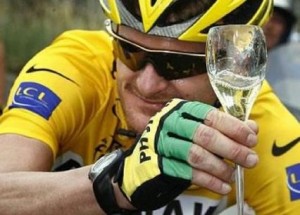 The allegations against Landis floyd and Lance Armstrong, two of the best cyclist has now been confirmed. Its funny though, after years of denial by both the accused, Mr.Landis says no more and accepts that he doped.
Landis Floyd also accounted that along with him his partner Lance Armstrong doped .
It all started when drug authorities got doping charges against them in  Tour de France, 2006 which led Landis to lose his title. After years of  claiming innocence,  Landis finally agreed the  charges.
Why now? Why didnt he accept the truth before itself???
It seems that both the cyclist feared the backlash from the society. But now losing all the credibility which he had for so long part of his life made Landis Floyd vulnerable to truth.
Online.wsj.com reports that Mr.Floyd has sent emails to certain officials.
"Three emails, which are dated between April 30 and May 6, have been reviewed by The Wall Street Journal. Mr. Landis copied seven people on these three emails, including officials with USA Cycling and the International Cycling Union. Three people who have seen the emails and spoken to Mr. Landis about them say they are authentic."
In one of the emails, dated April 30 and addressed to Stephen Johnson, the president of USA Cycling, Mr. Landis said that Mr. Armstrong's longtime coach, Johan Bruyneel, introduced Mr. Landis to the use of steroid patches, blood doping and human growth hormone in 2002 and 2003, his first two years on the U.S. Postal Service team. He alleged Mr. Armstrong helped him understand the way the drugs worked. "He and I had lengthy discussions about it on our training rides during which time he also explained to me the evolution of EPO testing and how transfusions were now necessary due to the inconvenience of the new test," Mr. Landis claimed in the email. He claimed he was instructed by Mr. Bruyneel how to use synthetic EPO and steroids and how to carry out blood transfusions that doping officials wouldn't be able to detect. Mr. Bruyneel and Mr. Johnson could not be reached for comment.
In the same email, Mr. Landis wrote that after breaking his hip in 2003, he flew to Girona, Spain—a training hub for American riders—and had two half-liter units of blood extracted from his body in three-week intervals to be used later during the Tour de France. The extraction, Mr. Landis claimed, took place in Mr. Armstrong's apartment, where blood bags belonging to Mr. Armstrong and his then-teammate George Hincapie were kept in a refrigerator in Mr. Armstrong's closet. Mr. Landis said he was asked to check the temperature of the blood daily. According to Mr. Landis, Mr. Armstrong left for a few weeks and asked Mr. Landis to make sure the electricity didn't go off and ruin the blood. George Hincapie, through a spokesman, denied the allegations.
Its now clear that, this news will be a breaking news ever in the cyclist world which involved the greats.