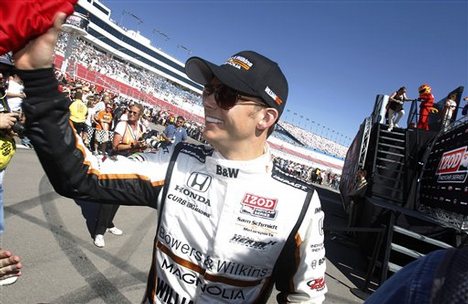 Two-time Indianapolis 500 winner Dan Wheldon died in Las Vegas today after his car crashed during a massive 15-car accident during the Las Vegas Indy 300.
Three other drivers, including championship contender Will Power, were hurt in the pileup.
"Things happen in this kind of racing," said Wade Cunningham, also caught up in the wreck. "It's so close. Not much room for error. I was near the front of what caused all this, so I'm not thrilled about it. At this point, whose fault it was is kind of immaterial."
How the Crash happened!
Wheldon, driving from the back of the field for a chance at $5 million, was in the middle of the pack when he drove into a tangle of cars careening off each other in every direction.
Unable to avoid the massive wreck unfolding before him, Wheldon clipped another car and went hurtling through the air, his car bursting into flames as it flew into a fence.
After just 11 laps, the race was over. Two hours later, track officials announced that Wheldon was dead. The Englishman was 33.
"One minute you're joking around at driver intros and the next, Dan's gone," said Dario Franchitti, whose wife, actress Ashley Judd, had to bring him a box of tissues. "I lost, we lost, a good friend. Everybody in the IndyCar series considered him a friend. He was such a good guy. He was a charmer."
IndyCar CEO Randy Bernard announced Wheldon's passing, saying, "IndyCar is very sad to announce that Dan Wheldon has passed away from unsurvivable injuries. Our thoughts and prayers are with his family today."
I leave you with the crash video