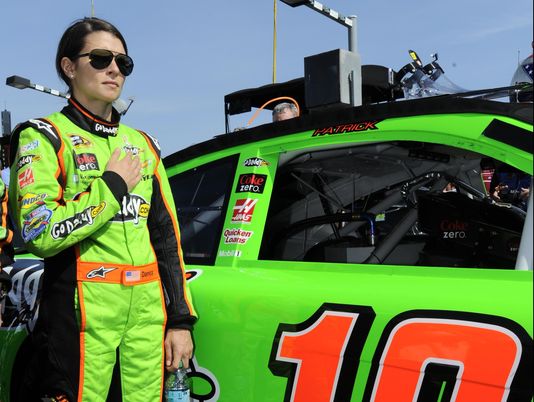 Danica 'shut up and race' – Danica Patrick got slammed by David Gilliland for talking too much during the race.
Danica Patrick raced against David Gilliland on Sunday at Kansas Speedway.
"He tries to take me out every time," Patrick said over the team radio during the STP 400. "Tell his spotter that I'm coming after him if he does it again. In fact, I might just do it right now."
This was just a conversation Danica was having with her team. Danica didn't talk about this with any reporter or do any interview.
But on the other hand, Gilliland heard about it and responded. He sent the message through his spokeswomen Shari Spiewak. "Shut up and race." He finished 23rd.
Patrick and Gilliland often occupy the same part of the racetrack – both are well outside the top 20 in points. She wound up 25th, her best intermediate track finish of 2013 but thought it could've been better.
That wasn't all that upset Patrick. Her Sunday was spoiled in part by a piece of litter that landed on the front grille of her No. 10 Chevrolet. It caused her water temperatures to rise – forcing an unscheduled pit stop that dropped her from the lead lap to two laps down.
"We started out pretty good, but we just got tight in the second half of the race," Patrick said in a team release. "We had a tire rub at one point and issues with the splitter from some contact we made. The trash on the grille was what really hurt us today."