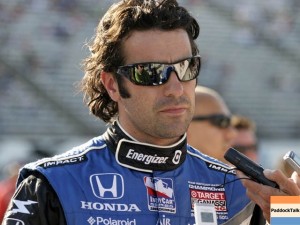 Dario Franchitti does it for his team. Yeah, he has won the Indianapolis race outsmarting  racers who was competing against  him for 99 laps.
Fortune turned to Franchitti side when the horrible crash that sent Mike Conway airborne and into the wall, and left the final lap to be run under a caution flag.
The victory made Franchitti's boss, Chip Ganassi, the first owner to win Indy and NASCAR's Daytona 500 in the same year. It also validated the Scottish driver's return to the IndyCar circuit two years after celebrating his 2007 Indy victory by making an unsuccessful move with Ganassi to NASCAR.
England's Dan Wheldon, the 2005 winner who closed furiously as Franchitti slowed to save fuel before Conway's crash, was second, and fellow Brit Alex Lloyd was third.
Conway, who waved to the crowd as he was being taken off the track, was airlifted to the hospital with an injured leg.
I really do hope Mr.Conway recovers soon. And hey congrats to Dario Franchitti for this excellent win