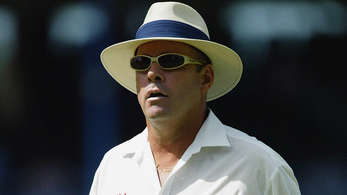 ICC Umpire Daryl Harper, who had stepped down from umpiring the India Vs West Indies 3rd Test match has sent a strong message against Indian Cricket team terming 'Errors in international cricket matches were as common as Indians eating beef burgers. I should never have applied the laws of cricket to Indian players.'
Daryl Harper, from Australia, has been an Test Umpire  from 1998 and 2011. In his 13 years of International Umpire, Harper was known for his standards and good cricketing decisions.
But, for last few test matches, Harper has been the center of criticism for his bad cricketing decisions.
Why is he Criticized?
In the first test match between India Vs West Indies, Harper gave some bad decisions against Indian Skipper M S Dhoni, Virat Kohli, Harbhajan singh. As always, one bad game for any player or an umpire would damage  his entire reputation. This is what happened with Daryl Harper. He has become a center of talk in the media.
In his defense,  Daryl Harper quoted to Headlines Today,  'I didn't have my best game of the year but referee Jeff Crowe, who observed every ball, calculated that I had managed to get 94 percent of all my decisions correct. That analysis was confirmed from (International Cricket Council) headquarters in our Dubai office'.
Recalling the wrong decisions, Harper said: 'There was one LBW against Harbhajan Singh that would have been reversed had the Decision Review System been available. I also failed to detect a no ball when West Indian Bishoo's back foot touched the side or return crease. It's about as common as Indians eating beef burgers.'
On his decision against batsman Virat Kohli, Harper said: 'Another decision that was notable involved Virat Kohli. He flashed wide of his body at a short ball that passed well outside his body down the leg side. He clearly gloved the ball and was given out. Replays could not confirm that my decision was right…and they could not confirm that my decision was wrong.'
It has become a common ground for players and umpires to retire badly in International Cricket. What would have been a perfect retirement has now turned to be an ugly one. And Mr. Harper has joined the list that will unfortunately continue till the game exist!