Detroit Tigers outfielder Delmon Young was arrested Friday morning outside the Hilton team hotel in mid-Manhattan and is being investigated for a possible hate crime in addition to his charge of aggravated harassment.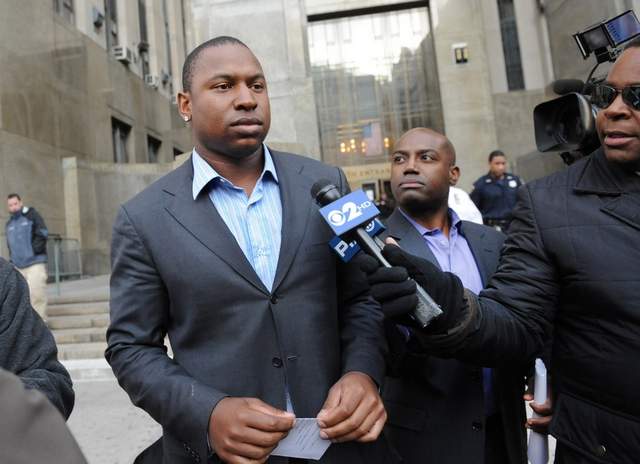 The case stems from Young allegedly yelling racial slurs at a Jewish man seeking panhandling money.
"He basically made some anti-Semitic remarks, there was a little bit of a scuffle between the victim and the suspect, and he was taken into custody and is being investigated by the hate-crimes task force," said detective Joseph Cavitolo, the New York Police Department's deputy commissioner for public information.
Young, 26, was in police custody Friday after first being taken to Roosevelt Hospital because of alleged intoxication.
According to the Associated Press, he posted a $5,000 bond at a brief hearing in Manhattan court Friday afternoon and was released less than an hour before the Tigers-Yankees game.
If convicted of the misdemeanor aggravated harassment charge of targeting someone of religious beliefs, he could face up to a year in jail.
Young was not in the lineup or with the Tigers for Friday's series opener at Yankee Stadium.
Recently promoted Brad Eldred was the DH, and Don Kelly was in left field.
Dave Dombrowski, the Tigers president and general manager, was scheduled to meet at an undetermined time with media to discuss Young's status.
Tigers manager Jim Leyland declined comment.
The ballclub released a statement Friday. It read, in part:
"We are aware of the situation, however it is our club policy not to comment on pending legal matters. As we understand it, this is an allegation and we need to allow the legal process to take its course. It would be inappropriate for us to comment further at this time."
Through his attorney, Daniel Ollen, Young released a statement later Friday.
"I sincerely regret what happened last night," he said. "I apologize to everyone I affected, the Ilitch family, the Detroit Tigers organization, my teammates, my family, and the great Tigers fans that have supported me since day one. I take this matter very seriously and assure everyone that I will do everything I can to improve myself as a person and player."