Prepared to visit India for the greatest world event Common Wealth 2010. Thats cool.
Let see whats the city is facing at present.
India's capital Delhi is currently facing the worst rainfall since 1978. The region is covered with waters.
But still, the organizers are claiming there is no damage to the common wealth games village.
Now, lets go back to the sanity and the condition the Indian capital is in presently. The Delhi city has been hit with worst dengue fever cases ever.
V.K. Monga, chief of the Municipal Corporation of Delhi's (MCD) health committee said, "The residents of Delhi should prepare for the worst outbreak of dengue in five years, as the number of cases has already reached the 1,652 mark with four deaths."
"The situation will definitely be worse than in 2006 and this year's number of cases will cross the tally of 3,366 cases then," he said.
Monga also claimed that incessant rains have caused a rise in the number of cases and said wherever the health staff sprayed anti-larval medicines, these were getting washed away with the rain water.
According to the MCD, 1,153 dengue cases and three deaths were reported in 2009, 1,312 cases and two deaths in 2008, 548 cases and one death in 2007, and 3,366 cases and 36 deaths in 2006.
The worst-hit areas are in south and central Delhi. This season, as many 274 cases of dengue have been reported from the MCD's south zone and 232 from the central zone. A total of 163 dengue cases have also been reported from the New Delhi Municipal Council areas.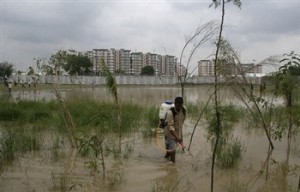 On Friday, 23 cases were reported from these three worst-hit areas, taking their tally this season to 669.
"The total number of cases in the above said areas was 646 on Thursday," an MCD helpline operator informed.
As per officials of the National Vector Borne Disease Control Programme (NVBDCP), a central nodal agency for the prevention and control of vector borne diseases, a high index of mosquito breeding has been reported in several areas of Delhi.
The breeding indexes in the MCD's south, central and Shahdara zones were close to 20 percent. At All India Institute of Medical Sciences (AIIMS), it was 16 percent and in the Cantonment area it was 12.5 percent.
"Even though we are taking active steps to control the spread of dengue, the people should be more vigilant but not everyone is cooperative. Already we have issued about 11,000 fine slips and over 45,532 notices to residents for not checking collection of water in their premises," said Monga, stressing that people are being non-cooperative.
Whats your take on it? Will you still visit Delhi or enjoy the games on TV?