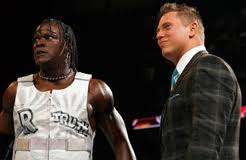 WWE COO Triple H has fired the Miz and R truth!
Why did Triple H fire them?
Well, it all goes down to the Night of Champions Pay Per View where The Miz and R-Truth beat up two Referees during their match against WWE Tag Team Champions Evan Bourne and Kofi Kingston.
The team of Miz and R-Truth  further attacked and beat up Triple H and CM Punk during The Triple H vs. CM Punk No-disqualification Match.
For some people including me, we suspect this as a whole new level of  WWE's Storyline development to run their weekly episodes.
Besides, The Miz is the brand value for the WWE. Its very unlikely that WWE would let go of the Miz to some other company.
The whole firing in my point of view is a drama.
However, WWE.com has added the spice for the storyline by officially quoting,
WWE has come to terms on the release of The Miz and R-Truth as of today, Sept. 19, 2011. WWE wishes Miz and R-Truth the best in all of their future endeavors.
what do you think on the new WWE storyline? Share with us your views!