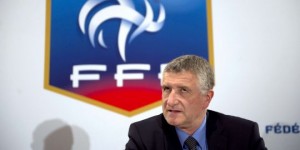 The national technical director of the French Football Federation, François Blaquart, has been suspended by the French government as the fallout over an alleged plan to enforce racial quotas in youth academies continues to spread.
Chantal Jouanno, France's sports minister, said Blaquart was suspended with immediate effect "pending the conclusions of an investigation led by the FFF and the IGJS [General Inspection of Youth and Sports]".
The story, which emerged on Thursday from the French investigative website Mediapart, cited sources within the FFF claiming Blaquart proposed limiting the number of non-white children entering the selection process through training centres and academies.
On Saturday Mediapart published further claims about a meeting at which Blaquart, the France coach, Laurent Blanc, the under-21 coach, Erick Mombaerts, and the under-20 coach, Francis Smerecki, among others, allegedly debated African players with dual nationality who were groomed in France but opted to play for their country of origin.
"We can mark out, in an unspoken way, a sort of quota. But it needs to remain unspoken," Blaquart was quoted as saying by Mediapart. Blaquart told RMC radio's website : "I cannot not acknowledge these remarks. But they have to be put in their context. We acknowledged the fact that there were many players with dual nationality … we had to control the management of these players who might be leaving us. There is nothing more to it."