Donovan McNabb thinks that he is back in form and ready to play quarterback in the NFL. But sadly, none of the 32 team are interested in taking him in.
McNabb is a 13-year veteran and six-time Pro Bowl selection who played in five NFC championships and one Super Bowl during his 11 seasons with the Philadelphia Eagles. But even with the mad scramble for starting quarterbacks that has taken place this off-season, McNabb seems to be a forgotten man.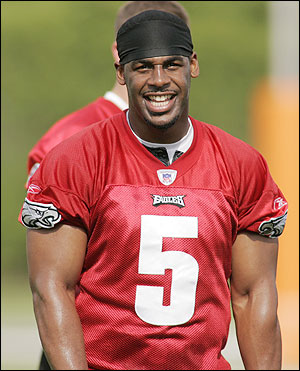 The last two seasons certainly can't be helping his case. He was benched twice during the 2010 season with the Washington Redskins and lost his starting job last year after leading the Minnesota Vikings to a 1-5 start. McNabb asked for and was granted his release from the Vikings in December, hoping to hear from another team in need of a quarterback.
He's still waiting for that call. In the meantime, McNabb says he's been working out with quarterback guru George Whitfield in San Diego, is 15 to 20 pounds lighter and still in great shape.
"I sort of have some unfinished business," McNabb said back in April. "I love the game, I have a passion for the game, and I look forward to continuing that."
The question is, where might that happen? Most of the teams with quarterback issues this off-season addressed them either through free agency or the draft, and those teams that didn't appear to be prepared to stick with what they already have.
But maybe there's room for him somewhere if he's willing to accept a backup role. Here's a crazy idea — what if McNabb returns to Philadelphia to back up Michael Vick? The Eagles might need an upgrade there, and Coach Andy Reid still speaks highly of his former quarterback.
"I still think he can play. I think the world of him, and we had some great years together here," Reid told the NFL Network. "He looks good. He looks physically good. He looks like he could go out and play tomorrow. I would highly recommend [him]."
Granted, Reid wasn't specifically talking about McNabb returning to the Eagles, but why rule out the possibility? McNabb apparently hasn't. When asked which teams he'd be willing to play for, he said he'd play for anyone.
"I have a list," McNabb said. "A full list, of 32."
Source: LATimes.com