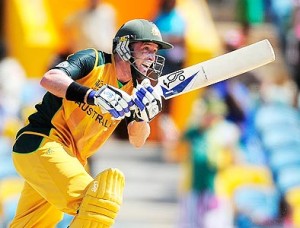 I am  really shocked now and in confusion from where to start to write on this excellent match which the world witnessed today. Brilliant is the best word i can describe on the match between Australia and Pakistan. Australia defeated Pakistan to reach the final of the ICC t20 World Cup , West Indies
Match Statistics Australia Vs Pakistan, the 2nd semi final.
The 2nd Semi final started with Australia winning the toss and opting to bowl first. The decision that led to criticism after what Pakistan did to  Australian bowling. Kamran Ukmal, Salman butt and Umar Akmal tore apart Australia bowling by scoring boundaries all over the field making themselves a massive score of about 191 for 6  after 20 overs.
Australia start was the score losing successive 3 wickets before the end of power play itself. Cameron white  showed real character as he tried to change the momentum of the game hitting 6 sixes. There was a moment  where Pakistan felt  White is unstoppable forcing captain Shahid Afridi to change the fielding repeatedly. White lose hope and tried to loft the ball straight for the bowling of  Aamer and getting himself out in the deep.
Captain Clarke was again a failure in the game. Which led Michael Hussey to the pitch. And Australia required  124 runs in 10 overs.  Boy! after all the matches which i followed  , I  have never seen Hussey with such a character. Hussey played a slow sensible start in the beginning and then killed the bowling at the end.
Hussey scored a total of   60 runs of   25 balls. for more  on the scorecard visit the link below.
Australia Vs Pakistan 2nd Semi Final ICC t20 world cup
And the climax of the game  is Australia won the match and enters Final to face England
As said by the commentators, Pakistan had  38 overs of the game with them. Last 2 overs belong to  Australia.