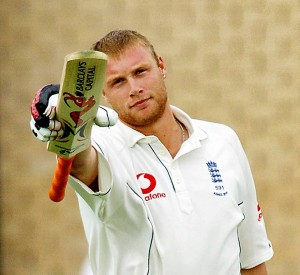 England player Flintoff who is the most successful english all-rounder and probably one of the best cricketer in the International Cricket has announced his retirement today.
Flintoff who was unfit from playing for the country due to the knee surgery which he underwent earlier in 2009 made him to take the most toughest decision of his career.
In a statement released by his agents, International Sports Management (ISM).,Flintoff said "It is with both disappointment and sadness that I am today (Thursday) announcing my retirement from all forms of cricket," .
"The decision to end my career came yesterday (Wednesday) after consultation with medical advisers," added the 32-year-old all-rounder, who quit the Test format after helping England regain the Ashes last year.
"I was told that the problems I have been trying to overcome in re-hab for the last year following the latest in a series of operations would not recover sufficiently to allow a comeback. Having been told that my body would no longer stand up to the rigours of cricket, I had no alternative but to retire."
"I would like to thank my family, Lancashire Cricket Club, England, all my sponsors, friends and advisers for all the help and support they have given me throughout my career. Last, but by no means least, I am indebted to the encouragement and support I have always received from England's magnificent supporters."
Flintoff said he will decide his future career later.
Flintoff Greatest Achievement
Flintoff was always considered to be the back bone of the England Cricket team. He has both captained and vice-captained for the England team.
The most unforgettable moment will be his contribution for the Ashes tournament 2005 where he scored 402 runs and took 24 wickets. After this tournament, he was called the best performer after Ian Bottam's performance in ashes 1981.
Flintoff holds the record for the most sixes scored for England, beating Ian Botham's record of 67 with a six off India's Piyush Chawla in Mohali on 11 March 2006.
Flintoff is only the seventh player to have batted on all five days of a Test match, achieving this feat at Mohali, in the same match in which he broke the sixes record
We will miss you freddie