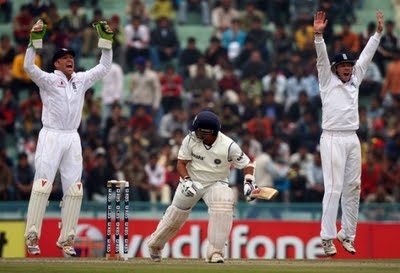 England Cricket Team has defeated India yet again in the Test series. The host made sure the former no 1 India suffered an humiliating 4-0 whitewash.
The 4th and the Final test match between India and England was underway in Oval, London where England won the toss and elected to bat.
Such energetic attitude was shown by the English players in the field that the Indians wondered hopelessly towards the boundaries when the England Batsman batted.
Everyone of the England players chipped in and contributed  in defeating the weak and injure prone Indian team.
Kevin Pieterson and Ian Bell was the star among the English team, whose massive contribution took England to 591/6 declared.
India in reply had no answers expect from the wall Rahul Dravid, who yet again proved why he is Mr.Dependable.
Dravid who remained unbeaten in first innings scored a massive Hundred where the wickets continue to fell in the other end. When he departed in the second innings, he received Standing ovation from English players as well as the cricket lovers. That felt great.
Grame Swann, finally, came into party by taken wickets regularly. Swann sent 6 Indian Players back to the pavillion.
It felt nice to see him return. Swann remained the only Star England player who after so much hope on him failed to perform in the first 3 test of the series.
Ofcourse, when a star comes back, he returns in style. And thats Mr Swann.
England defeated India by an Innings and 8 runs yet again a massive defeat.
England's Ian Bell was awarded the Man of the Match.  We have two Man of the Series this time around, From England we have Stuart Broad, who was awarded the Man of the Series for his wonderful performance with Ball and Bat
From Indian side, its Rahul Dravid who was chosen as the Man of the Series by England Coach for his brilliant show of strength when others were out in vain.
I believe, The English encounter will haunt Captain Dhoni for many years to come. This series is a worst record ever for a Indian Captain as no other Captain before him suffered such an humiliation.
Well, if you win the World cup and gain stardom in one day, you lose it in another. I believe, Indian Team is at the dawn of the other day.
Whats your reaction on the whole England- India Series. Share with us your views.