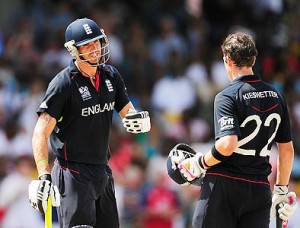 News from West Indies is that England defeated Australia to clinch their first ICC t20 world cup 2010.
Boy what a match. England dominated all the three aspects of the match with brilliant bowling, fielding and exceptional batting. Australia  just stood  answer less to English Attack.
The match begin with England  winning the toss and choosing to field first. England Bowlers  damaged the Australian batting with  3 wickets for just 8 runs in the 3rd over. Match then became interesting as Australia vowed fightback with the Hussey brothers and Cameroon white .
David Hussey scored an valuable half century with a knock  of 59 runs which was the stand out innings of Australian attack.
To be honest Australia was uncomfortable from the start of the match itself. They had no answers for England attack scoring just  40 odd runs for 10 overs.Australia still managed to score  147 for 6  in 20 overs.
England started out with a shock wicket of Michael Lumb for just 2 runs, which led  inform Kevin pieterson to come to the crease. Along with  Craig Kieswetter, the duo made a brilliant partnership of  over 100 runs.
Pieterson tried to be a hero and lofted a shot for the bowling of Smith and got  himself caught in the deep. The match become nervous when  Craig Kieswetter got out in the next over itself.
But captain Collingwood and Morgan made sure that the Cup reach home. Collingwood scoring the winning runs for the team.
Craig Kieswetter was awarded the Man of the Match Award. Player of the Tournament goes to Kevin Pieterson
England have finally achieved their   40 years dream of winning a maiden ICC  cup.
Well done England!!
Congratulations for the brilliant show!