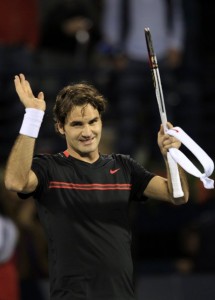 Roger Federer claimed his fifth Dubai Open title on Saturday with a 7-5, 6-4 win over Andy Murray.
It was second-seeded Federer's second title of the year and 72nd of his career.
Murray had defeated world number one Novak Djokovic in the semi-finals and had been bidding for a 23rd title in his 32nd final.
The second-seeded Swiss's win over the third-seeded Scot carried his recent fine form to 33 wins in 35 matches and suggested that even though he is well into his 31st year Federer may still remain a front line contender.
He lost only one serve game throughout the entire tournament – in the fifth game of the second set against Murray – moved well, and attacked smoothly in the fast conditions.
Murray had a chance to break serve in the sixth game of the first set, and broke back from 1-3 to 3-3 in the second, but was eventually beaten by a Federer who was playing close to his best.
"Winning is always the best, it solves everything. It's been a special week for me," said Federer, the record 16-time Grand Slam title winner.
Murray added: "The atmosphere was fantastic. I think most of the crowd wanted Roger to win!"
True sportsmanship displayed by Murry!