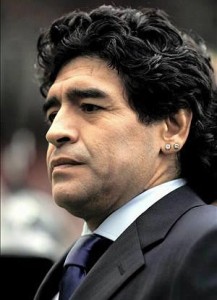 Another shocker. Germany defeated Argentina 4-0.
The match started with Germany scoring a thriller goal on the third minute of the match.  Half time was called with the score on board Germany 1-0 against Argentina.
On the 68th minute of the match, Germany scored another goal making their lead to 2-0. With Argentina having no answers for Germany attack, the boys of Germany standardized their lead with  2 more goals on 74th and 89th minute of the match.
Boys who scored for  Germany are  Klose(2), Muller and Friedrich.
from Argentina side there were no goal. Captain Massi had no answers this time around. His brilliance was spoken throughout the world but he failed to get his team to semi finals.
We could call this story as History repeats itself. Do remember, Germany was the same team that stopped Argentina in the quarter finals of the 2006 world cup.
Again they stopped the favourite Argentina this time around. Cheez, i felt bad to see the match. I totally Congratulate the brilliance of Germany, but i  had  my pick on Argentina. Felt disappointed to see them lose.
Diego Maradona dreams comes to an end