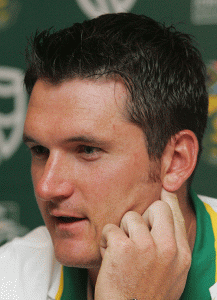 The Test cap that South African skipper Graeme Smith has used from his first ever Test for South Africa has been stolen whilst travelling from Cape Town to Durban.
Lol!
Smith revealed this news via his Twitter account earlier in the day :
"Realise this is a long shot, but had my Test cap that I've used since my 1st Test for Proteas stolen on travel up to Durbs. Cap means a lot to me so if you know anything pls give me a shout……thx !!!
This is really weird. I am aware that there is a long list of captains who are superstitious, but not in my wildest dream i thought South African skipper will be one among them.
I think he holds the cap close to his heart. so folks if you know anything about it let him know.