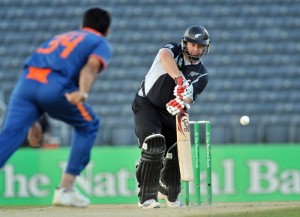 India Vs New Zealand One day international match is currently on schedule in Sri Lanka. This is the first match in the tri series involving India, New Zealand and Sri Lanka.
The match is in exciting situation now. After losing quick wickets  in the early stage of the match, New Zealand batsman have played sensibly and are now 251/6 in 44 overs.
Thanks to the captain Ross Taylor 95 and Scott Styris 89, New Zealand are heading forward for a competitive score
To know the live scores of Ind Vs NZ cricket match.