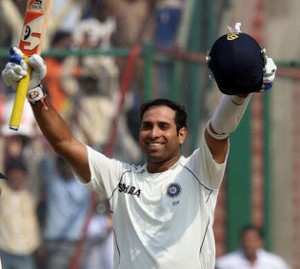 India, today, defeated Sri Lanka by 5 wickets to win the 3rd and final test of the series.The test series ends in a draw with the results 1-1.
Team India are still the number 1 test team in the world.

Match Summary

The match started with Sri Lanka electing to bat. Sangakkara , Samaraweera and Jayawardene played well to lead Sri Lanka to 425 score. India replied well with bat with Virendra Sehwag scoring a Century, Laxman and Raina scoring half centuries.
However, India couldnt handle the attack from Sri Lanka crumbling to 350 for 7. After which the tail enders Mithum and Mishra played a knock of their life each scoring over 40 runs and giving India a lead of 11 runs. India were all out for 436 for 10.
Sri Lanka second innings started in a shocker where Sri Lanka lose quick wickets and were looking in very grave state when Samaraweera and bowler Ajantha Mendis rescued Sri lanka. The former scoring 83 and the latter scoring 78 runs.
India were given a target of 225 to win the match. The Indian second innings started in the similar manner as the Lankan where batsman had no clue for the bowling of Randiv.
Not until when Master Blaster came to the crease and replied the bowler with a classic innings. Tendulkar's stay in the crease was the turning point of the match. Sachin Tendulkar scored 51 runs and made a partnership of 100 run with Laxman.However, Sachin got out for the bowling of Randiv.
Laxman and Raina made sure there will be no more lose of wickets. Both the players played superbly to see India home. Laxman completed his brilliant Century and proved once again that he is very very special Laxman.
VVS Laxman was awarded Man of the Match.
Virender Sehway awarded Man of the Series