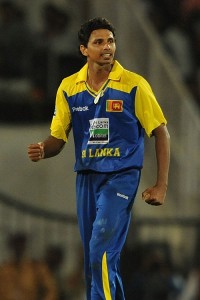 You heard it, the no-ball controversy has ended with the guilty being punished.
Suraj Randiv, the bowler who bowled the deliberate no ball has been suspended for one match with his entire match fees.
Captain Sangakkara gets no punishment but just a warning as it was found out by the stumps audio that it was Dilshan who motivated Randiv.
The bad boy of Sri Lankan Cricket Dilshan has escaped with a full match fee fine.
I reckon the players were left of the hook because of the fact that Sri Lanka wants the team to win the tri series on its home.