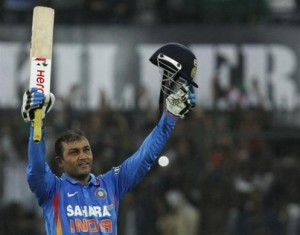 Indian Cricketer and Captain Virender Sehwag has smashed a massive double century (219 runs) in One Day Internationals. He made the mind blowing  219 runs off 147 balls.
With this Double Century, Sehwag becomes only the Second, next to Sachin Tendulkar to score a Double Ton in the ODIs.
Sachin Tendulkar, who also plays for India,  was the first to achieve the massive double Century record in early 2010.
However, with the Score of 219 runs, Virender Sehwag not only becomes the second ever to score the Double Century record, but also makes him the only cricketer to attain the record for Highest Individual scorer in One Day International Cricket
I  leave you with the you tube video where Sehwag is shown celebrating his Double Century record.
Congrats Viru!  You deserve it.