World Cup 2011 has been conquered by India in their home soil after defeating Sri Lanka. India becomes the first team in history to win a world cup in home town.
After their win, each and every player in the team said just one clause "We did it for Sachin".
Such were their respect towards the man who has been carrying the nation's burden for 21 years. These were the exact words from Virat Kohli and Harbhajan singh who were both crying emotionally after winning the world cup. Both the players while speaking with the commentators said " This were the moment for which we have been living for".
When questioned about Sachin's dream coming true, Harbhajan and Virat Kohli said " We did it for Sachin".
"He has been carrying around the team and nations burden on his shoulders for 21 years, now its time that we do it for him".
Sachin Tendulkar, who was crying all  the time, said " This is the proudest moment of his life". Further adding, "Its never too late for winning a world cup."
A Legends dream has been finally full filled. We, at Thfire, wishes team India for their brilliant display of sportsmanship in the tournament and for winning the world cup.
We leave you with the brilliant winning moments of Team India this world cup 2011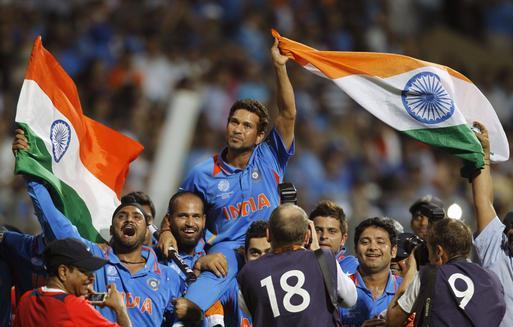 The image above speaks all about the situation and feeling of each Indian player.
Carrying Sachin Tendulkar in their shoulder speaks more about the situation. They knew it. They have done it. They have finally achieved it right before Sachin's retirement. Now Sachin, can retire with his resume being completed.