It was recently announced that veteran catcher and current unsigned free agent Ivan Rodriguez intends to officially retire in Texas on Monday.
When a great player like Rodriguez retires, it's nice to look back over his career, what his highs and lows were, his career milestones, and the best (and oddest) games he ever participated in where. That's what's listed below, the career highlights of Ivan "Pudge" Rodriguez.
Rangers tenure
June 20, 1991: Rodriguez makes his big league debut. He flies out in his first at-bat, but in the ninth hits a two-run single to help cement a 7-3 Rangers win over the White Sox. There are a lot of big names in this game, including Carlton Fisk, Frank Thomas, Ozzie Guillen, Sammy Sosa, Bobby Thigpen, Robin Ventura, Kevin Brown, Brian Downing, Juan Gonzalez, Ruben Sierra, Julio Franco, Gary Pettis, and Rodriguez himself.
Aug. 3, 1991: In the seventh inning, Rodriguez connects on an offering from Royals pitcher Storm Davis for his first career home run.
July 14, 1992: All Star Game: Rodriguez becomes the first player born in the 1970s to appear in the Midseason Classic. He is 0-for-2, but the AL triumphs, 13-6.
Aug. 31, 1992: For the second time this week, the Royals really shouldn't have tested Rodriguez's arm. Kansas City attempts to steal three bases on the day and gets gunned down every time by the Texas backstop. The exact same thing happened to them on Aug. 27, 1992.
Sept. 26, 1992: Fifty-four players take part in a 16-inning Mariners-Rangers marathon. Despite that, Rangers catcher Rodriguez plays the entire game. He's 3-for-7 with a double. Seattle wins, 4-3.
May 26, 1993: It might be the funniest thing that ever happens in a game Rodriguez plays in. During the fourth innings, Cleveland get an odd home run. You've heard of an inside-the-park home run? Well, this is an off-the-Canseco homer. Outfielder Jose Canseco goes to the wall to catch the ball but misses it and has it bounce off his head and into the stands. Since it never hit the ground, it's a homer. It's the difference, as Cleveland wins, 7-6.
Aug. 4, 1993: It's probably the most famous play Rodriguez is involved in. Yup, it's the Ventura-Ryan thing. After Robin Ventura hits a first-inning RBI single, Nolan Ryan responds by drilling Ventura with a pitch in the third. Ventura famously charges the mound, only do have Ryan get him in a headlock and punch him in the noggin repeatedly. Rodriguez runs up behind Ventura and grabs him as Ryan continues to hit the Chicago third baseman.
Sept. 22, 1993: Rodriguez is behind the plate when Ryan throws his last pitch. It wasn't a glorious ending for Ryan, who never got a single out. Ryan allows a single, three straight walks, and then a grand slam homer. Ryan's last pitch is wild, going all the way to the backstop, and then he's lifted for a reliever.
July 12, 1994: All-Star Game: Rodriguez will play in 14 All-Star Games, but this is the only time he plays in the entire contest. He's 2-for-5 with a run, but the NL comes back to win, 8-7.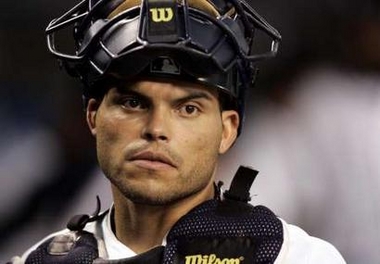 July 28, 1994: It's the best game Rodriguez ever catches. Texas pitcher Kenny Rogers retires all 27 Angels he faces in a perfect game. Texas, aided by a Rodriguez solo shot, wins the game, 4-0.
July 13, 1995: It's taken until his 504th career game played, by Rodriguez finally enjoys his first multi-home run game as he goes deep twice against the Red Sox during a 9-8 Rangers win. He'll have 18 multi-home run games in his 2,543-game career.
Sept 4, 1995: Baseball history is made on a pair of pitches called by Rangers catcher Rodriquez. In back-to-back innings White Sox third baseman Robin Ventura hits consecutive grand slams. He ends the day with those eight RBIs in a 14-3 Chicago win. Rodriguez goes hitless.
Oct. 2, 1996: ALDS Game Two: It's the first postseason appearance in Rangers franchise history. They've already won the first game against the Yankees and threaten to win this one also. Instead, New York rallies from a 4-1 deficit and wins, 5-4 in 12 innings. Rodriguez is 0-for-4 with a walk, and one of his rare sacrifice hits. Texas will lose both of the next two games to lose the series. That sets a pattern, as the Yankees will continually top Texas in the late 1990s ALDS.
June 12, 1997: Rodriguez is on-hand when a new era in major league baseball begins. It's the very first regular-season interleague game, and the Rangers lose to the Giants, 4-3. Rodriguez catches the first pitch, which is a ball. He also goes 0-for-4 with a strikeout.
Aug. 28, 1997: In the top of the third inning, Rodriguez lays down a sacrifice bunt. It's been almost exactly four years since he last did that in a regular season game (Sept. 1, 1993). He won't due it again for nearly five years (until June 14, 2002). That's a stretch of 4,524 plate appearances in over 1,000 games with this the only sacrifice hit.
Sept. 2, 1997: The Rangers win a wild one, 13-12 over the Dodgers, thanks to an amazing six-run bottom-of-the-ninth rally. In that inning, Rodriguez steps to the plate as a pinch hitter with the bases loaded and singles in two runs to tie the game. He also moves the eventual winning run into scoring position, and he'll come home minutes later on a walk-off Rusty Greer single.
Sept. 11, 1997: The Rangers whump the Twins 7-0, largely thanks to Rodriguez. He belts three home runs and drives in five.
May 11, 1998: Leading off the second inning against Boston, Rodriguez lines a single for his 1,000th career hit. He gets No. 1,001 later in the game, which is the 914th game of his career.
July 7, 1998: All Star Game: Rodriguez has his best Midsummer Classic ever: 3-for-4 with a run, RBI, and even a stolen base. The AL wins easily, 13-8.
Aug. 22, 1998: Rodriguez goes deep for his 100th career home run.
April 13, 1999: It's probably the greatest game of Rodriguez's career. In the first inning, he belts a three-run homer. The next inning he steps up with the bases loaded and drills a single that brings home a pair. In the fourth inning, he again comes up with the bases loaded and this time launches a grand slam home run, his first career slam. The game isn't even half over, and he already has nine RBIs. He's done driving in runs, but he'll add another hit. His nine RBIs are the most by a catcher since Smoky Burgess had that many on July 29, 1955.
June 1, 1999: Rodriguez's longest career hitting streak peaks at 20 games. He's 30-for-80 with nine doubles and five homers in that span for a .375/.414/.675 batting line.
Oct. 5, 1999: ALDS Game One: Rodriguez prevents Yankee pitcher Orlando Hernandez from making history in this game. Hernandez allows just two Texas hits on the day, a first-inning double by Rodriguez and a third-inning Rodriguez single. He's 2-for-4 while his teammates are 0-for-23. The Yankees win easily and will sweep Texas for the second straight year in the ALDS.
April 28, 2000: Well, that's an odd way to lose a game. With Rodriguez behind the plate, Texas reliever Jeff Zimmerman ends the day with the rare walk-off balk. His herky-jerky motion causes Baltimore's winning run to trot home for a 4-3 win. Rodriguez was 2-for-4 in the game.
May 12, 2000: At age 28 years and five-and-a-half months, Rodriguez wheels his way around the bases for two triples in one game. It's the only time he ever does this.
July 3, 2002: It's a nice day for Rodriguez as he belts two homers, both of them memorable. His first one is a career milestone, home run No. 200. The second is a walk-off home run. It's especially sweet as it comes right after Texas allowed two runs in the top of the ninth to turn a 5-3 lead into a 5-5 game. Texas wins, 6-5.
Sept. 29, 2002: It's the last game of the season, and Texas plays at home. Rodriguez is set to be a free agent in the offseason, and he goes out in style today. In the seventh inning, he belts a solo home run. The next inning, he doubles in a run, and is immediately replaced for a pinch runner. No doubt the fans cheered him wildly as he trotted to the dugout, waving to the 34,529 in attendance. Next year, he'll be a Marlin.
Marlins tenure
April 8, 2003: In just his seventh game as a Marlin, Rodriguez does something completely out of character—he draws five walks in one game. None of the walks are intentional. For his career, he'll have just 513 bases on balls in over 10,000 trips to the plate. On two separate occasions, he'll go 38 straight games without a walk.
Oct. 3, 2003: NLDS Game Three: Rodriguez has one of the greatest clutch offensive performances of his life. With the Marlins trailing 3-2 in the bottom of the 11th against the Giants, he comes to the plate with two outs and the bases loaded and promptly connects for a single for the walk-off Marlins victory. This puts Florida one win from the NLCS.
Oct. 4, 2003: NLDS Game Four: Rodriguez has one of the greatest clutch defensive performances of his life. Florida clings to a 7-6 lead in the bottom of the ninth against San Francisco, but the Giants have the tying run on second base with two outs. When Jeffrey Hammonds singles, J.T. Snow barrels around third trying to score. The throw beats Snow to the plate, so he tries to bowl over Rodriguez, but the veteran backstop holds on to the ball to end the game. Florida moves on to the NLCS.
Oh, and Rodriguez is a big part of the reason why Florida won this game, too. He was 2-for-4 with two runs, an RBI, a walk, and a double on the day.
Oct. 7, 2003: NLCS Game One: The Marlins win the first game over the Cubs, 9-8 in 10 innings, thanks in no small part to their catcher. Rodriguez is 2-for-5 with five RBIs, a walk, a run, and a home run. He has a three-run homer early and a two-run single in the ninth.
Oct. 12, 2003: NLCS Game Five: The Marlins, down three games to one, need a win to stay alive. Rodriguez does his part, hitting a solo home runs as the Marlins prevail 4-0 to sent the NLCS back to Chicago.
Oct. 14, 2003: NLCS Game Six: Yep, it's the Bartman Game. Florida is trailing 3-0 entering the eighth when they pull off a furious rally, scoring eight times in one inning. Minutes after the foul ball that made Steve Bartman famous, Rodriguez drives in the first run on a single. A little later he scores the game-tying run.
Oct. 15, 2003: NLCS Game Seven: After over a decade in the big leagues, Rodriguez finally has a pennant as the Marlins complete their comeback with a 9-6 win over the Cubs. He doubles and then scores the run that puts the Marlins ahead of Chicago for good.
Oct. 22, 2003: World Series Game Four: Rodriguez has his best game of the World Series in its tightest and most tense game. Florida, down two games to one, really wants a win to even things up, and Rodriguez obliges. With two outs and none on in the first, he singles to kick off a three-run rally. Florida's 3-0 lead turns into a 3-3 tie when regulation ends, but the Marlins triumph in 12 frames, 4-3. The Yankees won't win another game all Series.
Oct. 25, 2003: World Series Game Six: With Rodriguez calling the pitches, Florida's Josh Beckett tosses a five-hit, complete-game shutout to give the Marlins their second world title. For Rodriguez it's his first and ultimately only one. Rodriguez was a big part of Florida's postseason success, as he hit .313 with three homers and five doubles in October.
Tigers tenure
May 25, 2004: According to WPA, this is the worst game of Rodriguez's career: -.518. He's 0-for-5 as the Tigers lose to the Royals, 5-3. The at-bat that really kills his score comes in the ninth. Rodriguez steps to the plate with runners on first and third and one out and promptly grounds into a game-ending double play.
July 23, 2004: Rodriguez achieves a career milestone this day that very few catchers have ever been able to attain when he gets his 2,000th career hit. It's a seventh-inning single off Royals reliever Scott Sullivan. Despite that, Detroit loses, 13-7.
April 4, 2005: Rodriguez is on hand for one of the greatest Opening Day individual performances in history when his teammate Dmitri Young belts three home runs to start the season.
April 22, 2005: Rodriguez hits his second career walk-off home run when he goes deep off Minnesota's Terry Mulholland to lead off the 10th inning in a 4-4 tie. This will be the only extra-inning home run of his career.
April 5, 2006: For the only time in his big league tenure, Rodriguez goes 5-for-5 at the plate. He had another five-hit game on Aug. 1, 1999, but that took six at-bats. Today, he gets a trio of doubles (tying a personal best) and a home run. It's the only four-extra-base hit game he'll ever have. Rodriguez also scores three times and drives in five as the Tigers trounce the Royals 14-3.
June 4, 2006: For the first time in his career, Rodriguez is asked to play a defensive position other than catcher. The 34-year-old is Detroit's first baseman today.
Aug. 5, 2006: For the third and final time in his career, Rodriguez belts a walk-off home run. According to WPA, it's the most clutch swing of his life. It comes with two outs in the bottom of the ninth, the Tigers trailing the Indians, 3-2, and a runner on first. WPA values the homer at 0.894. As a result, this is his best overall one-game WPA score, 0.790. He goes 2-for-5 with a homer, single, and strikeout on the day.
Aug. 15, 2006: It never happened before and it will never happen again, but today it does happen: Rodriguez plays second base. He's only there for two innings, but due to some mid-game replacements, manager Jim Leyland opts to put the veteran catcher at second. Rodriguez catches one pop-up there. Detroit tops the Red Sox, 3-2.
Oct. 1, 2006: It's the last game of the season, and even though the Tigers have a playoff slot clinched, a win today gives them the division, something they'd much rather have than a wild card. They lose 10-8 to the Royals in 12 innings, but that is despite a fantastic effort by Rodriguez.
His first time up he hits an RBI single. He does the same thing in his next time at bat. In his third trip to the plate, he drives in another run with a triple. After that, the Royals refuse to give him anything to hit, and he walks three times, including an 11th-inning intentional walk with runners on second and third and one out. (The next two batters fan to end the inning). The six times on base is a career high.
Oct. 10, 2006: ALCS Game One: Rodriguez belts his fourth (and final) postseason homer when he leads off the fourth against the A's. It helps Detroit win this game 5-1, en route to an ALCS sweep for the first franchise pennant in 22 years.
Oct. 22, 2006: World Series Game Two: So what was that stuff on Kenny Rogers' pitching hand anyway? Only Rogers and catcher Rodriguez really know for sure, but he's asked to wash it off during this game. The Tigers win 3-1 to even the Series. Whatever it was, I bet the Tigers wish all their pitchers had it on their hands as Detroit will fall in five games to the Cardinals.
Sept. 5, 2007: It's milestone time again as Rodriguez gets his 500th career double. No previous athlete who played most of his career at catcher has ever joined the 500-double club. He also owns the single-season record for doubles by a catcher, which he set in 1996. He banged out 47 doubles that year, 45 of which came when he played catcher.
Yankees tenure
Sept. 3, 2008: Rodriguez is on hand when another bit of baseball history is made. The powers that be recently decreed that instant replay could be used on home run calls, and today that's used for the first time. A replay shows that the umpires correctly called an Alex Rodriguez blast a home run against Troy Percival. The Yankees top the Rays, 8-4.
Astros tenure
May 17, 2009: Rodriguez lodges another career milestone when he gets his 300th home run. It comes off Rich Harden of the Cubs in the fourth inning.
June 17, 2009: It's an achievement well-earned. Rodriguez plays catcher for the 2,227 time, breaking the record previously held by Carlton Fisk. Fittingly for a man with iron knees, the game goes into extra innings, and Rodriguez is behind the plate for all 10 frames.
Rangers second tenure
Aug. 19, 2009: The Astros just traded Rodriguez across the state, and today is the first time in seven years that Rodriguez takes the field in the familiar Rangers uniform. As an added bonus, it's a home game, and Rodriguez is up for it. He singles in his first at-bat and later scores the game's first run. He ends the day 3-for-4 with a double, run, and RBI. Unfortunately, it's not enough as the team blows a 4-0 lead and loses, 5-4, to the Twins.
Nationals tenure
June 8, 2010: The man who was behind the plate for Nolan Ryan's last pitch is the backstop for Stephen Strasburg's first pitch. With Rodriguez selecting the pitches, the phenom fans 14 in seven innings.
Sept. 3, 2010: Rodriguez grounds into a pair of double plays today, which causes him to tie and then pass Hank Aaron for the No. 2 slot on the all-time GIDP leaderboard. He'll never rise further up the list, leaving Cal Ripken as the all-time GIDP champion.
May 6, 2011: He might be a veteran, but there are still new experiences for Rodriguez. Today he's the backstop when Nationals pitcher Jordan Zimmermann has a perfect inning, striking out the side on nine pitches in the second inning against the Marlins. The Nationals win, 3-2 in 10 innings.
Sept. 28, 2011: It's the 2,543rd and final game of Rodriquez's career. He singles in the fifth for his final hit, but his last at-bat is less glamorous. He fans on three pitches in the seventh, with the last pitch catching him looking. In the ninth, he's on deck when the Nationals make their last out.
This beautiful break-down of Ivan Rodriguez's career highlights was originally compiled and written by Chris Jaffe for HardBallTimes.com