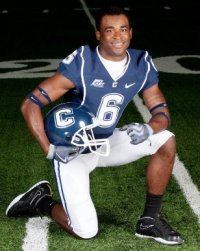 Jasper Howard was laid to rest 14 months ago after being fatally stabbed, just hours after UConn's win over the Louisville Cardinals.
However, the Huskies remember his impact on the team, and have chosen to honor him with banners and a pre-game tribute.
In the UConn locker room hangs a sign that reads, "Play every play like it's the last play you'll ever play," words Howard reportedly spoke before the Louisville game, that would truly prove to be his last game.
UConn defensive tackle Kendall Reyes admitted to Newsok.com that he and teammates think about their slain teammate every day.
"He's a big part of where we are, and he's still with us. It was our goal when he was here to get to the BCS. It's really special we finally made it."
The night of Connecticut's win over Louisville 35-28, Howard went to a school dance with friends. According to the police report, Howard was fatally stabbed following a confrontation and subsequent fight with someone who said something inappropriate to a girl. The Police has since arrested the primary suspect in the case, John Lomax III, who is awaiting trial on murder charges. Lomax III maintains he is not the man who stabbed Howard.
Source: bleacherreport.com