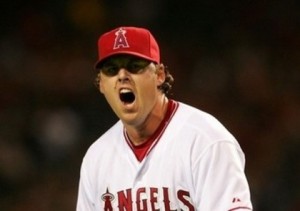 Boston Red Sox right-handed pitcher John Lackey will need Tommy John surgery for his Elbow injury and will miss the entire 2012 season, as per the new Red Sox general manager Ben Cherington.
"John Lackey pitched through circumstances this year that I don't think any of us can fully understand, and he got beat up for it a little bit," Cherington said. "This guy was dealing with stuff both on the field and off the field that were very difficult, and he showed tremendous toughness pitching through that. That game he pitched in New York at the end of the season where he helped us as we were grinding away for every win we could, I thought got overshadowed by how the season ended."
Early in the season, Lackey experienced tightness in his right elbow, underwent an MRI and was placed on the disabled list. Cherington explained that the results from that MRI didn't show much change from the original one Lackey had before the Red Sox signed him to a five-year, $82.5 million contract prior to the 2010 season.
"He came back and pitched pretty effectively for a while, and his stuff came back for a period of time after that," Cherington said. "Toward the end of the year it began bothering him a little bit more. He made that last start in New York and actually pitched pretty well but was battling it."
When the season ended, Lackey was sent back to Los Angeles to be examined by Yocum and had another MRI taken. After Yocum compared the two MRIs, it was decided Lackey would have the procedure.
"That (MRI) showed some additional change and based on a combination of the symptoms, the physical exam with Yocum and the new MRI, Yocum felt like it was time to consider surgery and John agreed," Cherington said.
"He's really excited about the future. Certainly anxious about the surgery and getting that done and the rehab. He knows that he's a much better pitcher than what he showed in 2011. I believe he's going to be much better pitcher than what he showed. We look forward to having him as a part of the staff, likely in 2013."