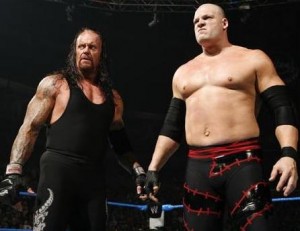 In a shocking turn over to Undertaker attack incident, Rey Mysterio today "6 august,2010″ blamed Kane for the attack on Undertaker.
Rey Mysterio said he didnt attack undertaker and he has no feud with undertaker to attack him on the back. Adding to which, Rey Mysterio questioned Kane on his authority, accusing Kane as the culprit who attacked Undertaker.
In response to that, Kane just started half Laughing and Half crying.
Honestly, i thought something like this to turn out in the whole Undertaker "vegetative story".
Firstly undertaker was not attacked by anyone. He was badly hurt 2 months ago after the match with Rey Mysterio. So, he couldnt continue with WWE.
To cover up the story, Smackdown decided to frame a story to make people believe some one attacked undertaker and it worked.
Now, its time for them to bring back Undertaker as he is recovering from the injury.  As a result of that, they are framing Kane to take the role of attacker so that WWE can run smackdown for weeks using Brother Vs Brother feud concept.
Kane Vs Undertaker is the most expected feud and i believe  The Undertaker will retire soon as he wishes. He always wanted to fight with Kane and they are creating this drama so that he could fight kane and i strongly think Undertaker will  force retirement this Wrestlemania 27 by either winning against Kane or Triple H.
I dont think Shawn Michaels will ever return to fight back with Undertaker.