Kevin Ware, Louisville guard suffered a gruesome injury during Sunday's Midwest Regional final. Kevin Ware's leg broke in two places, but the frighting injury was enough to put the stadium in a horrified silence.
During the Midwest Regional final, Louisville guard Kevin Ware suffered a gruesome injury that silenced the Lucas Oil Stadium, made his coach Rick Pitino fight back tears and left his teammates crying openly.
Kevin Ware's injury was so frighting that CBS stopped airing the replays shortly after the fall. Ware's right left bent in an awkward angle causing him to fall.
"The bone's 6 inches out of his leg and all he's yelling is, 'Win the game, win the game,' " Pitino said. "I've not seen that in my life. … Pretty special young man."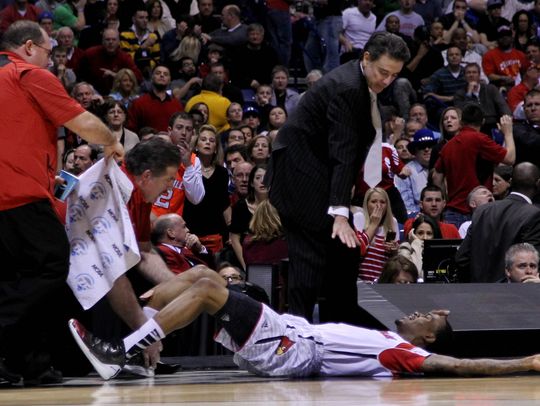 Viewers who saw the injury on TV reacted on social networks and #KevinWare shot to one of the top worldwide trending topics on Twitter. Video of the injury was posted on YouTube — CBS initially replayed it twice before changing course.
With 6:33 left in the first half, Ware tried to contest a 3-pointer by Duke's Tyler Thornton. Ware's leg buckled when he landed, bending almost at a right angle.
School officials said Ware was taken to Methodist Hospital with a broken lower right leg. Louisville sports information director Kenny Klein said hospital officials told the school that Ware was "resting comfortably" and that the pain was "under control."
Klein said a team of doctors was being assembled. Ware underwent surgery Sunday night, during which he had the bone reset and a rod placed in his right tibia. Pitino said that he and his son, Richard, who recruited Ware, along with the team's equipment manager would stay in Indianapolis overnight so they could see Ware, who will remain in the city until at least Tuesday.
Louisville athletic trainer Fred Hina called the injury an "open fracture of the lower leg."
"Obviously at the time it happened, the most important thing was to stabliize it and then to transfer him to an advanced care center as soon as possible," Hina said.
One of Ware's teammates and closest friends, Chane Behanan, Ware's closest friend, couldn't believe what was happening.
"The bone was literally out. I saw white, it was literally out," said Behanan, who collapsed to his hands and feet at the sight.
The two spoke at halftime.
"He said 'Don't worry about me, I'm good, I'll have my surgery tonight,' " Behanan said. " 'Go win it for me.' "
Pitino said Ware's leg broke in two spots and that he will need a year to recover from the injury.
Pitino said the injury is similar to the broken leg suffered in 2006 by Louisville star football player Michael Bush, who made his NFL debut in 2008 and has had a productive career with the Oakland Raiders and Chicago Bears.
It turned out Bush was watching the game on TV.
"I just cried," he wrote on Twitter. "I feel so bad. Flashback of myself. Anyone if he needs anything please let me know."
Ware was taken off the court on a stretcher.
The injury happened right in front of Pitino and the Louisville bench, and several Cardinals were overcome with emotion.
Louisville forward Wayne Blackshear fell to the floor, crying, and Behanan looked as if he was going to be sick on the court, kneeling on his hands and feet. Peyton Siva sat a few feet away, a hand covering his mouth.
"I dropped to go the ground. I've never seen anything like that," Behanan said. "I don't remember the last time I cried."
Luke Hancock patted Ware's chest as doctors worked on the sophomore and Russ Smith — who is from New York City, like Ware — walked away, pulling his jersey over his eyes. Even Pitino wiped tears from his eyes during the nine-minute delay.
You can watch the injury happening here, uploaded on YouTube.