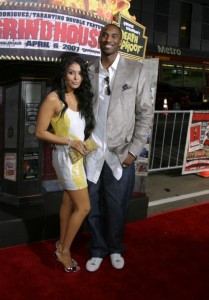 Vanessa Bryant has filed divorce papers from her superstar husband, according to reports.
TMZ is reporting that Vanessa Bryant, Kobe's wife of 10 years, has moved to end their marriage, citing "irreconcilable differences." Vanessa has requested joint custody of their daughters Natalia Diamante and Gianna Maria-Onore, who are 8 and 5 years old, respectively.
"The Bryants have resolved all issues incident to their divorce privately with the assistance of counsel and a Judgment dissolving their marital status will be entered in 2012," a representative said in a statement.
Kobe and the then-Vanessa Lane met while he was shooting a video for his hip-hop album, which was never released. Lane was a 17-year-old backup dancer who was still in high school. When Kobe and Vanessa married in 2001, his parents and sisters— who disapproved of the relationship — were not in attendance. In Shaquille O'Neal's recently released memoir, Shaq says that none of Bryant's teammates, with whom he had a rocky relationship, were invited to the wedding.
In 2003, Kobe was charged with raping a 19-year-old hotel employee at a Colorado resort. Before the case went to trial, Kobe settled out of court with the accuser for an undisclosed sum.
It was during the leadup to this trial that Kobe brought Vanessa an 8-carat purple diamond ring worth nearly $4 million.
"I know that my husband has made a mistake – the mistake of adultery," Vanessa said in the statement at the time. "He and I will have to deal with that within our marriage, and we will do so. He is not a criminal."
In a 2009 Esquire profile, Kobe and Vanessa were portrayed as a loving couple who were very protective of their young daughters. "Kobe tells me unabashedly that when he met her, it was love at first sight," Mike Sager wrote. "Kobe calls her Mamacita. He holds her hand everywhere they go. Sometimes he speaks to her in Spanish."
TMZ says the couple did not enter a pre-nuptial agreement. When his current contract ends, Kobe Bryant will have earned $280 million in NBA salaries. He has earned a substantial amount of money, perhaps in the hundreds of millions, from his product endorsement deals with companies like Nike and McDonald's.