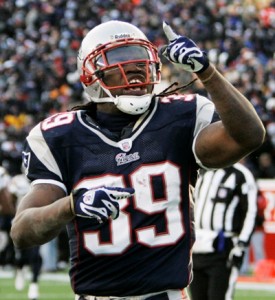 The Laurence Maroney story can finally be put to rest in New England.
The Patriots traded the running back and a 2011 sixth-round pick to the Broncos on Tuesday for a 2011 fourth-round pick, according to ESPN.com, ending the rollercoaster ride known as Maroney's career in Foxboro.
Maroney, a 2006 first-round draft pick, never matched expectations, and his Patriots career hit rock bottom when he was benched at the conclusion of the 2009 season.
He never took a snap with the first-team offense this preseason, and he didn't even play in two of the Patriots' four exhibition games. Maroney was inactive with a thigh injury in Sunday's regular-season opener against the Bengals.
It was eye-opening to see how little use the Patriots had for Maroney this summer, and all signs were pointing toward the two sides moving in separate directions, whether he was released or traded. With four other running backs in New England's crowded backfield — where Fred Taylor has temporarily assumed the starting role — the Pats also had the luxury of moving Maroney without sacrificing a major part of their offense.
Speculation insists the 2011 draft will be thin, particularly in the later rounds, due to the high quantity of underclassmen who declared for the 2010 draft. So, after the Pats surrendered Maroney and a pick just to move up into the fourth round next year, it's telling how far Maroney's stock had fallen in the Patriots' eyes.