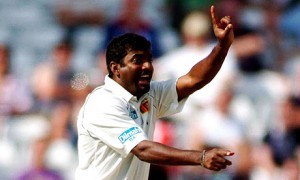 The Achievement of the star bowler Muttiah Muralitharan's 800 wicket haul has open the door for  party time in Sri Lanka.
Murali achieved this feat by taking the wicket of  Indian bowler Ohja. To say, Ohja is Murali's 800th victim.
Cricketing greats have just praises about Muralitharan
Shane Warne:
Shane warne tweeted "Congrats to murali on his 800th wicket and a wonderful career !!! Well done buddy awesome…"
He also added,"I don't think anyone will get there, so well done to Murali for getting his 800.
'The way he's gone about it has been amazing. There's been a lot of controversy about his action but at the end of the day the ICC (International Cricket Council) cleared him, he's allowed to play, and what he did with the ball was amazing.
'To face it was quite difficult, especially in those spinning conditions in Sri Lanka"
Anil Kumble:
Anil Kumble during a media interaction said "It is really amazing that someone like Murali has been able to achieve that. I think it will remain unparalleled. I am not sure if anyone will be able to achieve 800 Test wickets in as many Test matches that I have played. He took 200 more wickets than what I ended up with. It is a great achievement, and I have sent my congratulatory messages to Murali."
Wasim Akram :
Wasim Akram quoted to ESPN-Star "Murali is something phenomenal. Words are not enough to explain how exceptional he is. I don't think anyone will even come close to taking 800 wickets. The number not only highlights the man's exceptional skills, it reflects the passion and discipline of a great sportsman.'