Argentina's Lionel Messi has won the FIFA best player of the year 2011 award for the straight third time thereby registering his name as the only player in the history of FIFA to get three back to back awards.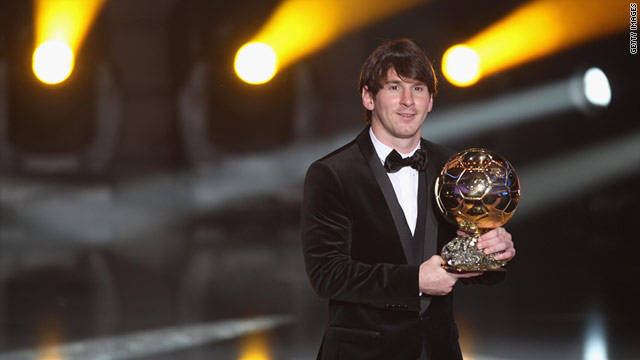 Messi won the award beating his club teammate Xavi Hernandez and Cristiano Ronaldo of Real Madrid to the game's most prestigious individual honor.
Messi known for his heroics in the field said, "It's a huge pleasure for me", after accepting the trophy from another three-time winner, former Brazil forward Ronaldo. "It's the third time I get this award, and it's a huge honor."
Messi received 47.88 percent of the points in votes cast by national team coaches and captains plus invited journalists. They chose from an original shortlist of 23 players.
Cristiano Ronaldo finished second with 21.6 percent and Xavi got 9.23 percent to finish third for the third straight year.
"This one is very special because I want to share this with my friend and teammate Xavi . He deserves it," Messi said.
The only other three-time winners are Ronaldo (1996-97 and 2002) and Zinedine Zidane (1998, 2000 and 2003)