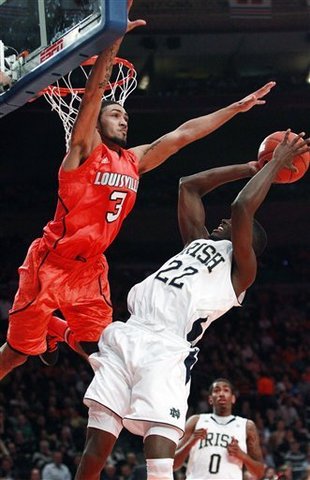 Louisville beat an old foe to win a second Big East championship.
Chris Smith, with his brother who plays for the New York Knicks in the stands, scored 15 points and the Cardinals withstood a closing run by Cincinnati for a 50-44 victory Saturday night that sends the Cardinals to the NCAA tournament for the sixth straight year.
Kyle Kuric added 13 points for seventh-seeded Louisville (26-9), which was in the championship for the third time. The Cardinals won the title in 2009 and lost to Connecticut in last year's championship game.
The game was far from offensive classic but it had the sellout crowd of 20,057 at Madison Square Garden on their feet in the final minutes.
"The problem with this game is, Cincinnati and Louisville know each other too well," Cardinals coach Rick Pitino said. "The coaches know each other, they've worked together. So you can't run one play without the coaches on the other side yelling it out. So defense has to win it."
Louisville finished 5 for 14 on 3s while the Bearcats were 3 of 14 and that included them missing their first nine.
The Cardinals led 24-14 at half and even though Cincinnati picked the scoring pace considerably, they were able to take the 16-point lead.
Louisville wasn't exactly lighting up the scoreboard but the Cardinals were 9 of 24 (37.9 percent) and they made three of 10 from3-point range.