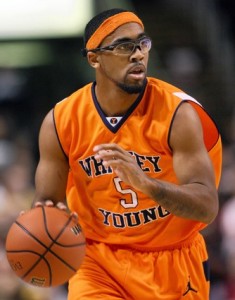 A pair of shoes could end up costing the University of Central Florida nearly $2 million a year.
UCF promised Marcus Jordan, son of NBA legend Michael Jordan, that he could wear his father's Nike Air Jordan brand for the Knights' basketball team this season.
The problem? UCF has an exclusive $1.9 million contract with adidas that requires all coaches and athletes to use the company's shoes, apparel and game equipment.
And now UCF and adidas are at an impasse, leaving an 18-year-old freshman with a famous father caught in middle.
"When I was being recruited, we talked about it," said Marcus Jordan, who led Young to the 4A title last season. "They said they had talked to the adidas people and it wasn't going to be a problem. I think everybody understands how big of a deal it is for my family."
The deal has strained the relationship between UCF and one of its most important business partners, complicating current contract renewal negotiations. The university's agreement with the company expires in 2010.
Contrary to a report last week by AOL Fanhouse, adidas officials told the Orlando Sentinel they have not reached an agreement with UCF yet about Jordan's shoes.
"There is no compromise and the contract is currently under review," adidas spokeswoman Andrea Corso said. "We are in negotiations for a future relationship regarding the broader UCF athletic program. What I can say is that these relationships are based upon agreed deliverables for both parties."
UCF Athletics Association released a statement indicating it hopes to extend its five-year old relationship with adidas.
"At this time, we are working with adidas in determining how this unique set of circumstances will work for both parties," the statement said. "We made adidas aware of this unique situation during contract renewal discussions. There is a great deal of respect for the adidas brand and the partnership."
UCF's contract with adidas represents about 5 percent of the UCF Athletics Association's projected income this year.
UCF is negotiating a new deal with adidas that is tentatively expected to be worth $3 million and last up to six years. UCF would received all its merchandise from adidas free of charge under the new proposed contract, a change from the current deal that calls for UCF to buy some items from adidas at wholesale prices.
Nike has not expressed interest in taking over the UCF shoe contract, with the company well represented in the Florida market thanks to agreements with the University of Florida, Florida State and Miami.
In the worst possible scenario, UCF risks losing its current adidas contract worth and being forced buy its own clothing, shoes and equipment at full price for all 15 of its sports.
Marcus Jordan, the young man in the middle of this controversy, said he never meant to offend anyone.
"It's a level of importance with the Jordan Brand and my family," he said. "It's no disrespect to adidas. I have a high level of respect for adidas, but I'm going to be wearing Jordan shoes. I'm wearing the adidas uniform and all my other UCF gear is adidas, but the shoes are going to be Jordan Brand."
Dan Drane, an assistant professor of sports management at the University of Southern Mississippi, said it's hard to imagine Marcus Jordan would be able to wear anything besides Nikes.
"Whether it's right or wrong, Michael Jordan's sons will always be compared to and associated with him," Drane said. "It would be very difficult for them to be associated with a company other than the one that was so supportive of their father's career."
Drane said the shoe controversy goes beyond adidas simply wanting UCF to honor its contract.
"It's a pretty deep issue that touches on a student's legal right to wear whatever they feel is best for them," Drane said. "In the end, this might end up being bigger than just a battle between adidas and Nike."
This post was found is   chicagotribune.com/sports/chi-marcus-jordan-air-jordan,0,32539.story  and  they deserve the credit for the post.