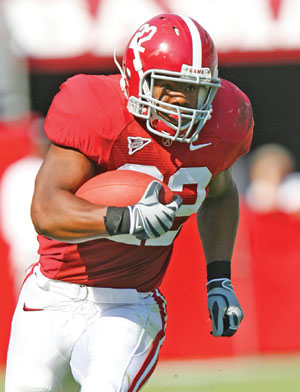 It's never good news to hear that a player has been injured, but this will certainly make Nittany Lion fans choke back a little smile. Alabama's reigning Heisman-Trophy-winning running back suffered a knee injury in practice on Monday.
Alabama running back Mark Ingram suffered a knee injury late in Monday's practice, coach Nick Saban announced in a statement Tuesday, and has been ruled out for Saturday night's season opener against San Jose State.

Ingram, who last year became the first Crimson Tide player to win the Heisman Trophy, had "an arthroscopic procedure" done Tuesday morning, according to the statement.

"It was a situation where everyone involved thought it would be better to take care of now, so he would not have any issues with it later in the season," Saban said.
All that is known for now is that Ingram will sit out week one. After that he's day-to-day so there's a good chance he could come back when Penn State travels to Tuscaloosa on September 11.
Alabama is still Alabama, and they are loaded with talent. But playing them without Mark Ingram, or even Mark Ingram at 50%, only helps Penn State's chances.