Who is Sin Cara?  A search tag that is now hitting the search engines after the latest WWE announcement.
WWE official announced that Sin Cara ( new roster ) has joined them (WWE).
That's great, but who is Sin Cara?
As reported in WWE website, Sin Cara is a professional wrestler who begin his wrestling career at an age of 15 with an record international fan following  under his belt. He is well known for his high-flying style and awe-inspiring acrobatics.As a Mexican, he prefers to have masks in his face during the matches.
WWE Executive Vice President Stephanie McMahon said "Sin Cara is a tremendous performer who brings the crowd to its feet every time he steps into the ring. With us, his stardom will only get bigger and brighter."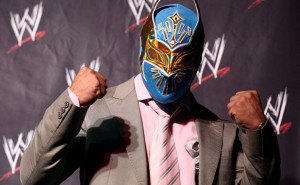 Upon his signing, Sin Cara said, "WWE is the pinnacle of sports-entertainment. It is an honor and a thrill for me to be able to perform with the world's best. Being a WWE Superstar will present new challenges, new mountains to climb and new competition. It is a new beginning and a new life. With that in mind, I have chosen the new name of Sin Cara in hopes to represent all the legendary Mexican masked performers and to carry the banner of their legacy to the entire world."
The list just adds up with WWE, we now have 3 mexican in the WWE.
The veteran Rey Mysterio followed by newly joined Alberto Del Rio and Sin Cara as a latest inductee. We wish Sin Cara an healthy career with WWE.
Update:
Sin Cara has made the WWE debut. For more on that, Click here