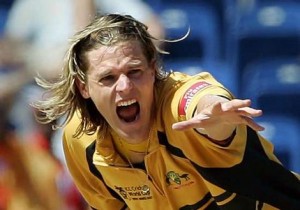 Australian pacer Nathan Bracken quits International Cricket. He announced his retirement at Sydney this Saturday.
Bracken who is aged 33, was known for his consistency in knocking out the opponents wickets. His reason to retire all of a sudden shocks the cricketing world, but Bracken  cited knee injuries for his decision to call it a quit.
Bracken said he had investigated ways to continue playing, but received medical advice that he should retire.
"I really have enjoyed my cricket both internationally and domestically, but unfortunately knee injuries have taken their toll," Bracken said.
"I have had a strong rehabilitation from my last operation and have also looked at altering my bowling action to reduce any further damage in my knee and which would have enabled me to continue playing, but it hasn't responded.
"My doctor has advised that I may require further surgery to stabilise my knee and to enable me to have good use of the knee in the future, but to continue playing first-class cricket is now not an option that I have."
Thank you Nathan Bracken for all the good cricketing moments. We hope you come back soon with a different cricketing role.