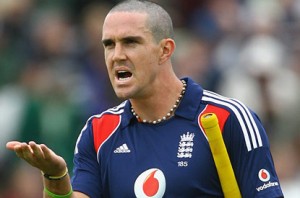 WTF, this is crazy and unfair to omit a player who is not just a player but a world class icon. England Player Kevin Pietersen  have been excluded from the team for both one dayers and T20 international against Pakistan.
He has been told by the board to play the county and improve the batting. This is utter nonsense if you ask me.
According to national selector Geoff Miller, "Kevin Pietersen has been omitted from both squads as we feel that his game would be best served by getting as much cricket under his belt as possible before a long and challenging winter"
"The remainder of the county season is an ideal opportunity to do just that…
"Kevin has proved on numerous occasions that he is a world- class player and we know he'll benefit from getting more time in the middle to work on his batting and get his game back to the level he has shown throughout his career."
Honestly they are barring him from the team so that he could win them Ashes in the winter. What i question is why dont they do the same with other players.
If i was handled as Kevin pietersen, i would have quit the game. After so much commitment for the team. Pieterson is still treated this way. Shame!!!
The Twenty Twenty World cup man of the tournament tweeted,
"Done for rest of summer. Man of the World Cup T20 and dropped from the T20 side too."
Also, Pietersen tweeted "Naturally Disappointed" and immediately deleted the tweet fearing that he may be treated the same way as the English County player Azeem Rafiq who was banned from all forms of the game for 1 month for showing disappointed towards management via tweet
"While I'm naturally disappointed to have been omitted from the England squad I fully understand the reasons why and will be doing everything I can to get back into the England team," he said in the ECB statement.
"I have no issue with the selectors omitting me from the limited-overs squads and my sole focus now is working on my game ahead of an exciting winter."
Pietersen,we love you, dont be broken for this. We are sure you will raise back and come strong soon.