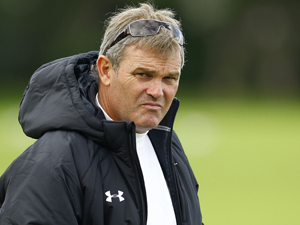 Martin Crowe, the man who surprised the cricket lovers by his decision to play the first class cricket after 16 years of retirement, has finally ended his career by just facing 3 balls.
Crowe, aged 49, played his long awaited cricket match today. But as he started to face the delivery, he developed a thigh muscle strain and later was forced to retire.
Crowe who first retired from International cricket in 1995, after a chronic knee injury took toll on his body was the star New Zealand Batsman of his time.
But with Saturday's pulled muscle being his fourth in as many months, Crowe said it was time to admit the dream was over.
'While getting off the mark yesterday, I pulled a thigh muscle running a normal single into the covers. So three balls into my first premier match back, it's over,' Crowe said in an email sent to the media.
'It was sort of fun along the way. I got to hit lots of balls over five months, experiencing the joy of batting again. But as soon as it required the important running bit, the old problems kicked in,' Crowe was quoted as saying in New Zealand media.
"I said from the start it would end in tears with an injury," he said.
"No tears, but frustrated after a lot of hard work getting ready. So that will do."
'No regrets,' he added.