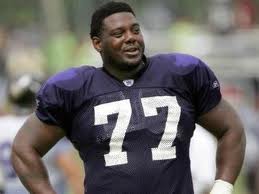 Former Baltimore Ravens offensive tackle and 11-season NFL veteran Orlando Brown was found dead in his Baltimore home today at the age of 40.
According to  CBS News:
Fire spokesman Battalion Chief Kevin Cartwright said firefighters were called about 11 a.m. Friday because Brown was unresponsive at his home near the Inner Harbor. Cartwright said Brown was dead when firefighters arrived. Police spokesman Anthony Guglielmi said firefighters called police, routine procedure in such cases. He said there were no signs of trauma or suspicious activity.

The Ravens learned of Brown's death during practice.

"We send our condolences to the family of Orlando Brown," Ravens coach John Harbaugh said. "Everybody knew what he meant to this organization. We're forever grateful for what he did for the present team. We can't express enough sorrow for his loss."
Brown has a lot of interesting notes about his NFL career — he's one of only two players to have played for both the pre- and post-Baltimore Ravens versions of the Cleveland Browns and is most famous for accidentally hit in the eye by a penalty marker weighted with BBs thrown by referee Jeff Triplette during a game in 1999 and having to sit for three seasons because of it.
He settled with the NFL for a reported amount of $25 million and started up the first Fatburger franchise in Maryland.
Bill Belichick, the man who signed Brown, coached him for three seasons in Cleveland said, "I am extremely shocked and saddened to hear the news about Orlando Brown. Orlando improved as a player as much as anyone I have ever seen, as he went from being a defensive lineman at South Carolina State to becoming one of the game's top offensive tackles, when he sustained his unfortunate eye injury. Orlando was a true throwback player who loved football and was as tough as they come. Without question, Orlando was an integral part of the Browns turnaround during the mid '90s and he will be missed. I offer my deepest condolences to the Brown family."