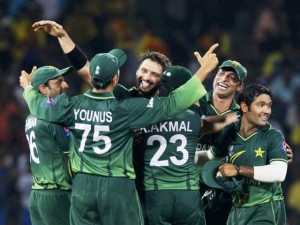 ICC World cup 2011 can never get bigger and better after what we witnessed today. Pakistan convincingly defeated West Indies in the quarter finals of the ICC world 2011 thereby becoming the first team to enter the semis.
Boy, Oh Boy, i could not forget the match. This is one of those matches where i kept on creeping the google search engine at work to know the score board. I am sure that thousands, may be millions, among you would have done the same from work.
Coming back to the match held today at Mirpur, Bangladesh, West Indies batted first. I reckon west indies players would do all in their power to forget their defeat today,but  if they remember the loss  then it will be very very tough  for them to mentally cope up.
Captain Shahid Afridi turned out to be the star for Pakistan team as they damage the west indies batting completely. Besides Chanderpaul who remained unbeaten on 44, no other batsman had any clues on the Pakistani bowling attack.
West Indies lose all their wickets for 112 .
Pakistan kick start their batting with Kamran Akmal and Mohammed Hafeez, who won the match by the massive opening partnership and more importantly Pakistan maintained their dominance by not losing even a single wicket .
In the end, Pakistan won the match in the 21st over with 10 wickets remaining.
Mohammed Hafeez was named the man of the match.