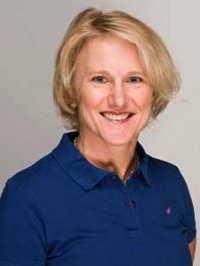 When some one makes history, the world turns to them. This is the exact case with Peggy Ference.
Peggy Ference becomes the first woman to play the US open challenge 2010. And thanks to this  fact, internet is buzzing around about this woman.I  from my end have collected some information  on peggy ference.
Peggy Ference was the first woman to play in the event since its inception three years ago. She is a 51-year-old amateur golfer from New Jersey who won her spot in the event by competing in an online essay contest. She received 37% of the 65,000+ votes cast, sending her to play with actor Mark Wahlberg, hockey great Wayne Gretzky and NFL quarterback Drew Brees.
The only celebrities to break that 100 mark are Matt Lauer and Mark Wahlberg."I just had to try to get it in the short stuff as quickly as possible," Ference told ESPN. "Just to learn how to hit the shot to get it out of the rough was very challenging."
"It felt like a hurricane," Wahlberg said. "I'm glad it's over. It was tough out there."